Linda
from
Niagara on the Lake
, on Oct 11, 2017
Well what should I say about our amazing time with Carlo. He picked us up at the Naples train station, then we stopped at Pompeii for a private 2 hour tour with Claudia, who Carlo had pre-arranged. Claudia was amazing, her knowledge of Pompeii was wonderful. Then Carlo took us to our hotel in Sorrento and gave us an amazing history lesson along the way. The next day we did a full day tour from Sorrento-Ravello. It was breath taking. Carlo knew all the best spots to stop at for photos. We were able to park right in Positano and tour around and then off toward Ravello, and we stopped at a wonderful place for lunch. A local restaurant run by a local family, that Carlo knew. The food, drinks, service and view were outstanding. What a wonderful day. The next evening, Carlo picked us up at 630 pm to take us to the Farmhouse for dinner, we stopped along the way for some beautiful photos of Capri and the beautiful country side. Our dinner,venue and service were lovely and again we would not have known about this gem if Carlo had not taken us there. On our last day we had Carlo drive us to the Rome airport, it was so relaxing just taking one mode of transportation for the 3 hour trip to the airport. We can not thank you enough Carlo for the wonderful service you provided. Your knowledge of your lovely area was priceless. Also we loved your humour. Thank you so very much for sharing with my family your lovely area and the special places you took us. I will highly recommend you to all of my friends. Remember if you are ever in the neighbourhood, come and visit. Take care and safe travels. Sincerely, Linda
Annie Blumer
from
Melbourne
, on Sep 28, 2017
Lorenzo picked my husband and I up from our little bed and breakfast in Naples and took us to Amalfi. What a delightful and engaging driver, full of information and had great English too. Highly recommended.
Paula M Caruso-Foy
from
Rochester Hills, Michigan
, on Aug 14, 2017
My sister and I used Wisely Travelling with Carol Arcucci and he took the worry out of our trip. From picking us up at the Naples Airport followed by an arranged tour to Pompeii, then to a charming B&B in Sorrento. He made suggestions to restaurants, shopping and Capri for the following day. Picked us up at the B&B, experienced a morning drive to Positano and then a relaxing scenic tour along the Amalfi Coast to our final destination, Rome. Could have never experience all of this in such a short time on our own. So accommodating in a luxurious Mercedes. Couldn't asked for more. Definitely would use this company again and highly recommend his services.
Ken Corbett
from
Alexandria, VA
, on Jul 3, 2016
Amalfi Coast - Our European vacation highlight w/Carlo 21 July 2012 After reading reviews about Wisely Traveling, we couldn't go wrong. Carlo (very professional, courteous and knowledgeable) picked us up in Rome right outside our apartment @ 6:30 am and drove us down towards the Amalfi Coast. Being a little bit hungry my wife asked about stopping for a quick bite. Carlo pulled into a local bar and we ordered up some Latte Macchiato's, some espressos & some delicious pastries. Carlo won €20 on a scratch off lottery card before we continued on towards Amalfi. We stopped at some great photo op locations that were post card perfect. He dropped us off in the beautiful town of Amalfi to do some site seeing, shopping and enjoying the friendly local atmosphere. After about an hour or so, Carlo picked us up and drove us further up the coast towards Positano, stopping at various locations to snap some great photos of Praitano and Positano before arriving at the town of Positano. Carlo dropped us off and we walked down the narrow street enjoying the small shops and vendors along the way. We made our way down to the beach and were met with a breath taking view of some of the most gorgeous views of the Amalfi Coast. The houses set into the hillside painted all different colors were so vibrant along with all the beautiful flowers and hanging baskets which just lit the coast line with so much beauty. After making our way back up to meet Carlo we continued up to Frattoria Terranova. This is a beautiful farmhouse that sits up in the Ravello area overlooking the Tyrrhenian Sea. The farmhouse is absolutely gorgeous and the only way to describe it comes from memories of the Swiss Family Robinson. Everything was beautifully laid out with hanging baskets of gorgeous flowers, rows of hanging garlic and onions and cut flowers perfectly adorned the structure which was built with an eye towards attention to detail. Carlo took care of us by ordering up what he called, "A traditional Italian meal." They brought plate after plate of delicious cheeses & meats, breads with extra virgin olive oil, bruschetta, pasta with clams, steamer pot of muscles, roasted vegetables, delicious olives, breaded fried cheese and various other plates. The meal was the most delicious out of a three and a half week European vacation. Absolutely delicious! To top it off they finished off the meal by serving four flavors of the local liqueur. The local lemon, strawberry, coffee and apple liqueurs were the perfect finish to the most absolutely delicious meal. The staff was friendly and terrific. The farmhouse stop was a true treat to the Amalfi Coast Trip. Carlo loaded us in the van and provided some more expert tourist insight into his beautiful country on our way back to Rome. Our only regret was that we didn't get to visit his town of Sorrento. "Maybe next time." If you are on the fence about whether or not to do the Amalfi Coast, I can't recommend it enough! It was the highlight of our entire vacation!
Along the Amalfi Coast (LiGalli island as background) with Jack,Mary,Kristin and Linda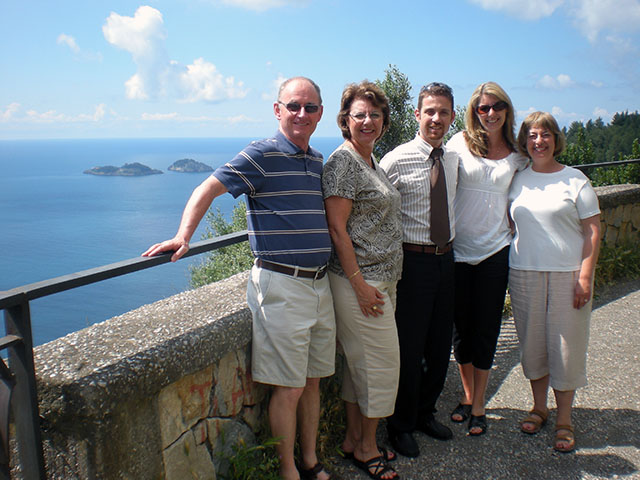 Looking for records in Ruvo del Monte (little village southern Potenza) Thanks to DEE and GEORGE.
Susy
from
Crawfordsville, IN
, on Aug 1, 2015
We had such a wonderful time with you that day. You were so helpful explaining the difference between Italy & the United States. The girls & I enjoyed the trip as well as your commendatary. You are very knowledgeable of the area and if I come back to the area I will certainly arrange another trip with you. Thanks so much.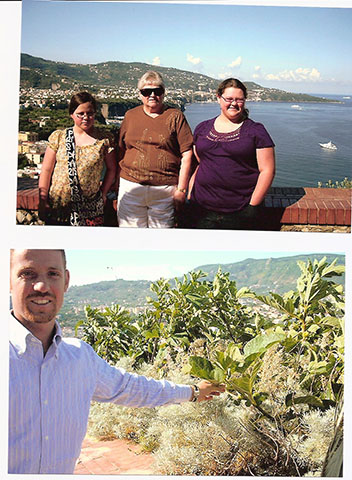 Clifford Family
on Jul 5, 2015
Clifford Family at the Naples dock after a great tour along the Amalfi coast,June 2010.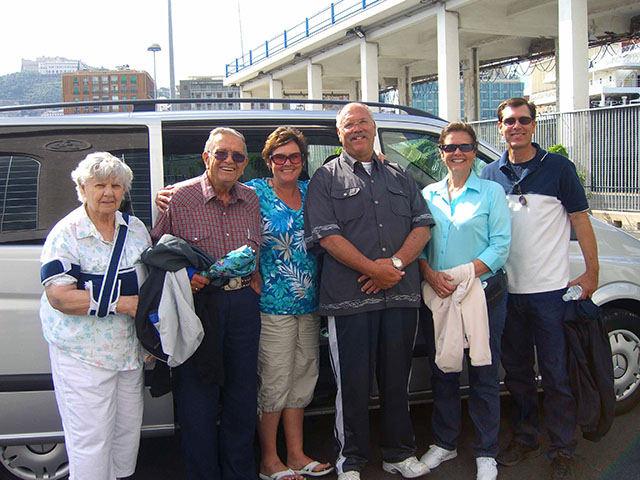 Hi Carlo, Thanks so much for the wonderful tour of the Amalfi Coast. We all agreed that day was the highlight of our vacation in Italy!! Thanks for putting up with us :)